Hooliville
From FroobWorld Wiki
Hooliville

Hooliville as of January, 2020.

Map
Map 10
Coordinates
x: 21000, z: 2800 (Overworld)
Founded
November 2019
Founders
Segovo, Arc25275
Population
5+
Theme
Metropolitan
Hooliville is a town themed on being futuristic, with modern homes and skyscrapers. Hooliville is unique in being one of the few towns with plots and not allowing free building.
History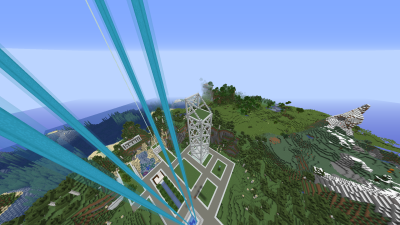 Hooliville was originally created around November 2019, by the Hooli company with the idea of creating a city that wouldn't eventually become "dead". On 31 December 2019, at 3:00pm CST, a New Year's firework show was held, live streamed to Twitch and synced to music, the recording can be viewed here. Most of the construction of the city is expected to be completed by mid 2020. The portal was received in late December 2019.
The Great Hooliville Fire
About two days after the 2020 New Year, a fire ignited on the forest outskirts of Hooliville. The flames eventually spread into the city where it burned down the massive Hooliville Christmas tree.
Gallery
Hooliville Terrace viewed from the Hooliville Sign. Built mainly by Segovo.

Chapstick Skyscraper. Built by Segovo.

Hooliville Bridge. Built by Segovo.

X-Tower. Built by Arc25275. Currently owned by FEET company.

Flowertop Skyscraper. Built by Segovo.

GOGURT - Look closely enough and you'll spot a bewildered Arc25275.